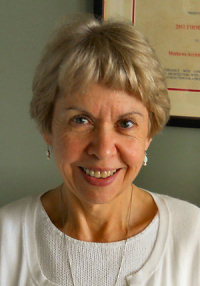 Jane Gianvito Mathews, FAIA
JANE GIANVITO MATHEWS, FAIA, LEED AP BD+C, principal of Mathews Architecture, PA, holds a Masters of Architecture degree from Yale University and a Bachelor of Environmental Design degree with highest honors from the University of Colorado.
After graduate school, with a professional goal of working in small towns and communities of need, she was an intern architect in the coalfields of rural Eastern Kentucky, a community she still works with today. To further her work with non-profit organizations, she served as a Fellow with the Design Arts Program of the National Endowment for the Arts in Washington, DC.
A regular visitor to Asheville for many years, she came to work for sixty-to-ninety days in 1982 and has been a resident ever since. Jane started and was president of the first women's owned, corporate architectural firm in Western NC established in 1992.
Jane is active in the community, utilizing her professional and personal skills to volunteer her time and efforts to various non-profit organizations. She served as President of the Asheville Section of the AIA in 1999 and on various AIA NC committees throughout the years including as a Director on the AIA NC Board. She is an affiliate member of the American Society of Landscape Architects.
Jane has served as president of the Preservation Society of Asheville and Buncombe County, on HandMade in America's Resource Council, on the boards of Asheville Catholic School and of Catholic Charities for the Diocese of Charlotte, on the Asheville Planning and Zoning Commission including as Chair, on the Mayor's Affordable Housing Task Force and Affordable Housing Working Group, on the Asheville Area Riverfront Redevelopment Commission where she is chair of its Riverfront Planning & Design Review Committee, and six years as an original appointee to the City of Asheville's Sustainability Advisory Committee on Energy and the Environment (SACEE).
She currently is a Trustee on the Board of the Pine Mountain Settlement School in Harlan County, Kentucky, a National Historic Landmark, and is chair of its Facilities and Environment Committee.
Jane was the 2004 Honoree of the Year of the TWIN (Tribute to Women of Influence) Award from the YWCA of Asheville, 2015 recipient of the William H. Deitrick Service Medal from AIA North Carolina, and was recently elevated to Fellowship in the American Institute of Architects.
Learn a lot more about Jane
here
.